Today I was watching Oprah and it was her
favorite things
show. In case
you live under a rock
you have no idea what I'm talking about, the Oprah favorite things show is when Oprah gives away a bunch of her favorite things to all her audience members. Today's loot included a $400 custom Oprah Edition Ralph Lauren sweater, a Nikon SLR, a $2800 diamond watch, and a Breville panini maker just to name few.
The people for the audience are hand selected because of their involvement in community or their own special way of giving back. Since I really have no hope of ever being in Oprah's Favorite Things audience I decided I'd play Oprah myself.
Here's what I'd include for my audience if I were Oprah.
The
Garmin Forefunner 310XT
I never used to run with a Garmin but once you have one you'll never be able to run without it. I used to use the kitchen clock to know when I left and got back. It was a highly sophisticated method of timing my runs. I would also go out and randomly run a certain amount of time and then come home and "clock" my runs via my trip odometer on the car (also a highly sophisticated method). Everyone who runs should have a garmin. Mine is made for swimming, biking and running but there are ones out there specifically for running.
Tiffany Key Necklace
I love jewelry, particularly jewelry with diamonds! Seriously I can't describe to you the feeling I get in the jewelry store or Tiffany. I'd say it's like a kid on Christmas. I love the look of classic jewelry and there is something about this piece that seems timeless.
Spibelt
A SPIbelt is basically just what it say-- It is a belt for small personal items (SPI). It is lightweight and convenient while running. Since I usually wear a water belt during training runs I don't use this during normal running days but always us it during a race. I usually carry my cell phone, chapstick and fuel. The pocket fits more than you think. You can use safety pins to pin on your race bib too.
Viva Beads Keychain
Viva Beads are hand made clay beaded jewelry. I have the wristlet key chain. It is so convenient for a busy mom. As a mom you always need two hands free. You don't want to be digging through your purse looking for your keys at all times. If I had a penny, just one penny, for every time my mom shook her purse and said, "I can hear 'em but I can't see 'em" while looking for her keys I'd be a millionaire for sure. Enter Viva Beads wristlet. Slip it on your wrist and know where your keys are at all times but still have two hands to wrangle the kiddos.
Road ID
Add caption
Think of the Road ID as a dog tag for runners, cyclists, or other athletes. If you find yourself in an accident or a situation where you can't speak for yourself, the Road ID has all your personal information so that emergency personnel can contact your loved ones or know if you have any serious medical conditions. If you exercise alone then you really should wear one. I have the one pictured above (mine is pink) but there are newer/nicer styles available now.
Sonicare Healthy White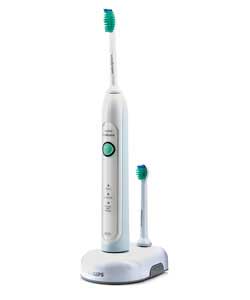 If you don't own a Sonicare, you are missing out! I love my Sonicare, it makes my teeth feel so smooth and clean. There's not much you can say about a toothbrush except if you think automatic toothbrushes don't make much difference, you are wrong. Totally worth the investment.
Droid X
I love the Droid because it is fast and fun and can use lots of cool apps but the thing I really like about a Dorid phone is the google experience on the Droid. I use google for EVERYTHING. I'm pretty sure it's overtaking the world so you better have a phone that likes google and the Droid does (hahaha no pun intended). If you buy this phone whether you're a loyal blackberry or iPhone user, you will NOT be disappointed.
Le Creuset Dutch Oven
I use this bad boy for everything. I use it stove top to cook pasta, use it in the oven for whole chicken or use it to simmer like a crock pot. It cleans up surprisingly well and it has never disappointed me. Meaning I've never burned anything when I use it. Another piece worth investing in.
Ugg Classic Short Boots
I know some people think Uggs are ugly and I don't necessarily disagree but they are super comfortable. What other shoe can you where in the dead of winter with NO socks and stay completely warm and comfortable. I have them in chocolate and requested charcoal for Christmas. I know I've been good so I hope Santa delivers.
I hope you've enjoyed Susan's Favorite Things. I wish I was on Forbes top 100 list so I could afford to send you all my favorite things. Heck I'd even throw in a trip to Hawaii and Range Rovers for everyone.
Aside from the Viva Beads all of these items on my list were gifts to me for special occasions (birthday or Christmas). Don't be fooled Santa isn't THAT good. I send him FREQUENT emails letting him know what would be good gift ideas if he ever feels the urge. Why make things difficult?
By the way, I have been VERY good this year.