Birthday season is upon us and the birthday wreath is already on the door.
I have one very excited seven almost eight year old on my hands.
If you know my kids at all, then you know birthday party planning occurs the day after the last party has been completed. This year Nicholas commissioned a baseball birthday party. Oh great! Baseball, in August, in Texas. I managed to talk him out of the backyard baseball game with every last person he's ever spoken to and talked him into inviting just a handful of close friends to a minor league baseball game.
So I've been hard at work for awhile planning out all the details of his party including the above invite.
Every year I make shirts for his parties and this year he wouldn't have it any different.
Nicholas' Birthday 2009
It so much more cost effective to make the shirts than to buy them. I use the Avery Dark Fabric Transfers and $3 T-Shirts from Walmart. Before you know it you have an officially illegally licensed product for less than $5 a shirt.
These iron on transfers are easy to use with simple directions. You can also use these to make yourself a cool race T-shirt. I might iron my name on my marathon T-shirt so people will cheer for me.
I also caught some creative energy from Sweet Sugar Belle. This woman is ah-maz-ing! Really there is no other word to describe her talents. Check out these cookies that got me truly inspired.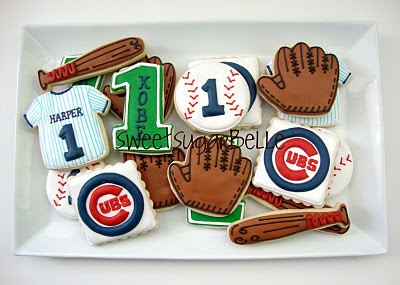 I could never dream of my cookies looking like hers. If you look around her blog you will see this woman is simply gifted. Having said that, I am REALLY proud of how MY cookies turned out. I am really not an artsy/crafty person, but I do love to see smiles on my kids' faces. When Nicholas saw my cookies he said they were the best cookies he had ever seen and that I'm the best maker (clearly he hasn't seen Sugar Belle) . So regardless of my amateur cookie making abilities, it was a success.
This whole process was a lot of work, but I was able to make all this…
… into these:
Tomorrow I'll be attempting to make the cake. God bless whoever gets in my way when things start to go wrong. I hope there aren't any tears (from me or Nicholas). After all, there's no crying in baseball.